I may get commissions for purchases made through links in this post.
Is The Ninja Blender Dishwasher Safe?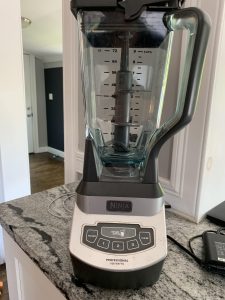 If you just got a new Ninja blender, you are probably wondering about the right way to clean it. Or maybe you've had your blender for awhile and are trying to figure out how to get rid of any stuck on ingredients you might be seeing. Keep reading to learn everything you need to know about whether the Ninja blender is dishwasher safe.
Which Ninja Blender Parts Are Dishwasher Safe?
Ninja pitcher containers, lids, discs and blade assemblies are all dishwasher safe. NEVER put the motor base in the dishwasher. The only way to clean the motor base is with a damp cloth AFTER you unplug it. Be sure to never use any abrasive cloth, pad or brush to clean the motor base.
How To Prepare Ninja Blender Parts For Dishwasher Cleaning?
Be sure to separate all parts from the pitcher or container before placing them in the dishwasher. By this I mean that you should make sure the lid and the blade assembly are removed from the pitcher. Place them separately in the dishwasher.
Can You Hand Wash Ninja Blender Parts?
Yes, you can hand wash the pitcher or container, lid, disc and blade assembly in warm soapy water. However, the blades are sharp so you need to use caution. It is best to use dishwashing brush so that you don't have to touch the blades directly. When done, rinse and then air dry all of the parts.
When To Use Dishwasher vs Hand Cleaning For Ninja Blender Parts?
If you have access to a dishwasher, using it to clean your dishwasher safe Ninja blender parts can advantageous in certain situations. The best reason to use a dishwasher over hand-washing your Ninja blender parts is if there are any ingredients sticking to any of the parts. The power of a dishwasher will likely be more effective and efficient in removing these stuck on ingredients than any hand-washing could be. If your Ninja blender is not working or is showing a blinking red light error, it is possible that the parts are in need of a deeper cleaning that the dishwasher can provide.
How To Get Rid Of Stuck On Ingredients If You Don't Have a Dishwasher?
If you don't have a dishwasher and hand washing still leaves behind some stuck on ingredients, try these steps. Fill your pitcher or container about half way full with warm water. Be sure not to exceed any MAX lines that your pitcher or container may have. Add one or two small drops of dish soap to the water. Install the blade assembly and lid (if applicable). Install the pitcher or container onto the motor base and start blending. The soapy water will foam up and clean the parts. Stop blending, discard the soapy water and rinse the container or pitcher, lid and blade assembly with warm water. Let them air dry. If the stuck on ingredients remain, contact Ninja support to ask for their advice.